CIMA of PA BENEFIT CONCERT
Jeffrey Koepper | Vic Hennegan | Michael Peck - 16 April 2011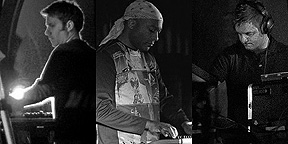 Jeffrey Koepper's precisely programmed swirling Spacemusic seduces listeners into a kaleidoscopic inner-sanctum where time is suspended and the outside world fades away.
Vic Hennegan's compositions combine influences from the worlds of Prog, Techno, New Age, Ambient, Space, Electronic and World Music into a most distinctive work.
Michael Peck is an artist living in sound. Treating the soundfield like a canvas his music demands imaginative interaction and asks the listener to re-align our sensitivity to sound.
Koepper | Hennegan | Peck return to Philadelphia in a major Spacemusic event to benefit The Gatherings Concert Series on Saturday 16 April 2011.
More info here.